the expression of my spirit
Dance is the latest artform I discovered, yet it became the confluence of all arts and sports I had practice before. Dance was the international language I had been looking for and that would allow me to communicate with an international audience.
Since my background was not in classical ballet, I found the permission given by the post-modern movement to include and explore pedestrian movements particularly interesting. My journey took me through improvisational dance and Contact Improvisation to Wigman technique to the more classically oriented technique of Merce Cunningham. I then made a radical shift into the highly athletic and spirited dances of West Africa, the African Diaspora and Capoeira. Major influences include Meredith Monk, Sara Rudner, Elizabeth Streb, Youssouf Koumbassa, Marie Basse-Wiles and Pat Hall.
In New York I concentrated mostly on creating my own work that always integrated elements from different artistic media. Together with visual artist Erik Schurink, I co-founded KOO Dance in 1984 and was the sole founder of AZAHAR Dance Company in 1993. Fascinated by the cultural melting pot of New York, my work was strongly colored by multi-culturalism and current socio-political themes.
If you are curious to sample some of my work, please see following:

Yoga, especially Jivamukti Yoga, with its dance-like Vinyasa choreography, has become a logical extension of my career as a dancer. However, I am curious to explore what it will look like 20 years later.

REVIEW New York Times, 1989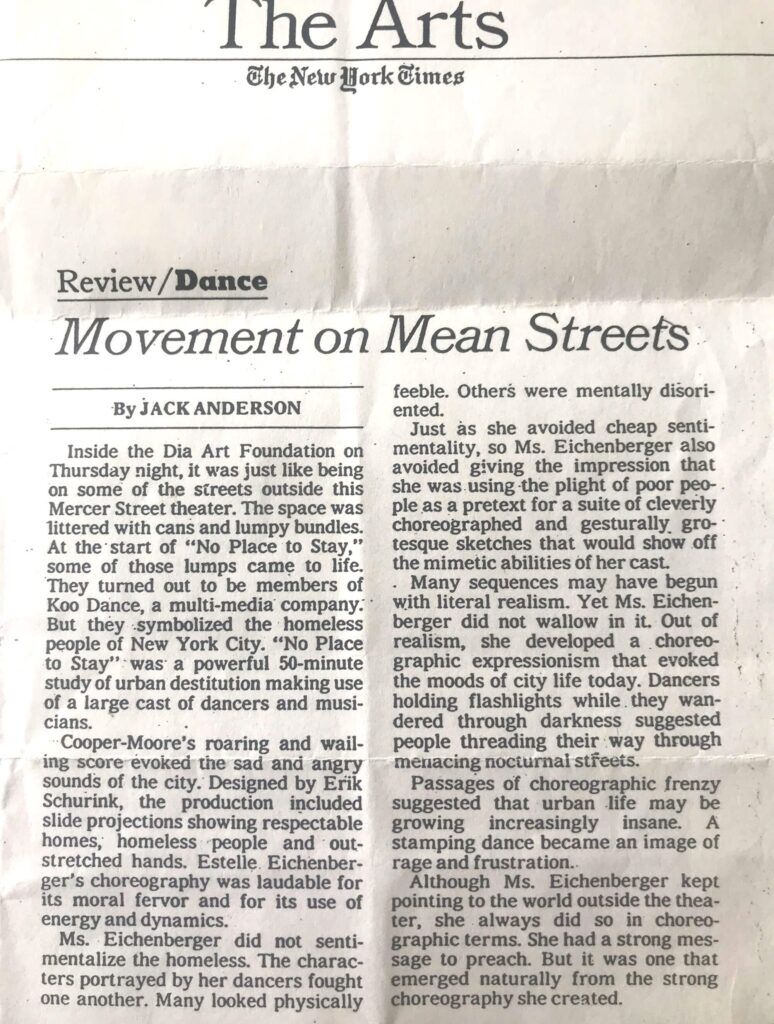 REVIEW Village Voice, NY, 1987