MAY 2005 / JIVAMUKTI EDITORIAL TEAM
The real does not die, the unreal never lived.
Sri Nisargadatta Maharaj
This collection of the timeless teachings of one of the greatest sages of India is a testament to the uniqueness of the seer's life and work, and it is regarded by many as a "modern spiritual classic."
I Am That (now in its 11th printing) continues to draw new audiences, and to enlighten anxious seekers after self-realization. Sri Nisargadatta Maharaj was a teacher who did not propound any ideology or religion, but gently unwrapped the mystery of the self. His message is simple, direct, and yet sublime.
Here is an excerpt from the book, taken from the cover notes.:
The real does not die, the unreal never lived.
Imagine a big building collapsing; some rooms are in ruins and some intact. But can you speak of the space as ruined, or intact? It is only the structure that suffered and the people who happened to live in it. Nothing happened to space itself. Similarly, nothing happens to life when forms break down and names are wiped out. The goldsmith melts down old jewelry to make new. Once you know that death happens to the body and not to you, you just watch your body falling off, like a discarded garment. The real you is timeless and beyond birth and death. The body will survive as long as it is needed. It is not important that it should live long.
A simple man, Maharaj was a householder and petty storekeeper in Bombay where he lived, and died in 1981 at the age of 84. He had not been educated formally but came to be respected and loved for his insights into the crux of human pain and the extraordinary lucidity of his direct discourses. People came daily to his humble abode with their questions. I Am That is a book compiled from transcripts of those questions and Maharaj's enlightened answers.
Talks with Sri Nisargadatta Maharaj
Edited by Sudhakar S. Dikshit
published by The Acorn Press
Commentary by Yogeswari:
Sri Nisargadatta Maharaj was a teacher who did not propound any ideology or religion but gently unwrapped the mystery of the Self. His message is simple, direct and sublime. (taken from the cover notes)
Sri Nisargadatta's birthday is supposed to have been in March of 1897, and his given name was Maruti. He received virtually no education, and until his middle age, he lived as a petty shopkeeper and a householder in Mumbay. One day, a friend took him to his Guru, who gave him a mantra and instruction on meditation. Following this event "something exploded within him, as it were, giving birth to cosmic consciousness, a sense of eternal life. The identity of Maruti, the petty shopkeeper, dissolved and the illuminating personality Sri Nisargadatta emerged." (S. Dikshit.p xii).
I AM THAT is a collection of recorded answers given to various questioners on existential topics.Typical of Sri Nisargadatta's teachings is his straightforward and never sugar-coated challenge to the ego. He is said to often have shouted at his questioners with earth-shattering wake-up calls. "He is warm-hearted and tender, shrewdly humorous, absolutely fearless and absolutely true–inspiring, guiding and supporting all who come to him. (S. Dikshit, p xiii)
Questioner: Must I not be happy? I may not need a thing, yet if it can make me happy, should I not grasp it?
Maharaj: Nothing can make you happier than you are. All search for happiness is misery and leads to more misery. The only happiness worth the name is the natural happiness of conscious being…. Experience leaves only memories behind and adds to the burden which is heavy enough…Look into the hearts of people around you. You will find a variety of experiences which you would not be able to go through in a thousand years. Learn from the sorrows of others and save yourself your own…To deal with people, you need insight, sympathy. To deal with yourself you need nothing…. Be what you are: conscious being and don't stray away from yourself.
Q: University education is most useful.
M: No doubt, it helps you to earn a living. But it does not teach you how to live…No university will teach you how to live so that when the time of dying comes, you can say: I lived well, I do not need to live again…Most of the people vegetate, but do not live. They merely gather experience and enrich their memory… You can become a night watchman and live happily. It is what you are inwardly that matters. Your inner peace and joy you have to earn. It is much more difficult than earning money….Not to separate, not to oppose, but to understand and love whatever contacts you, is living universally…Every existence is my existence, every consciousness is my consciousness, every sorrow is my sorrow and every joy is my joy–this is universal life….the general attitude will be of affectionate detachment, enormous goodwill, without expectation of return, constant giving without asking…. (Chapter 66: All Search for Happiness is Misery (excerpts, S. Dikshit, p.312-319):
Give up all questions except one:"Who am I?" After all, the only fact that you are sure of is that you are. The 'I am' is certain. The 'I am this' is not. (Sri Nisargadatta Maharaj)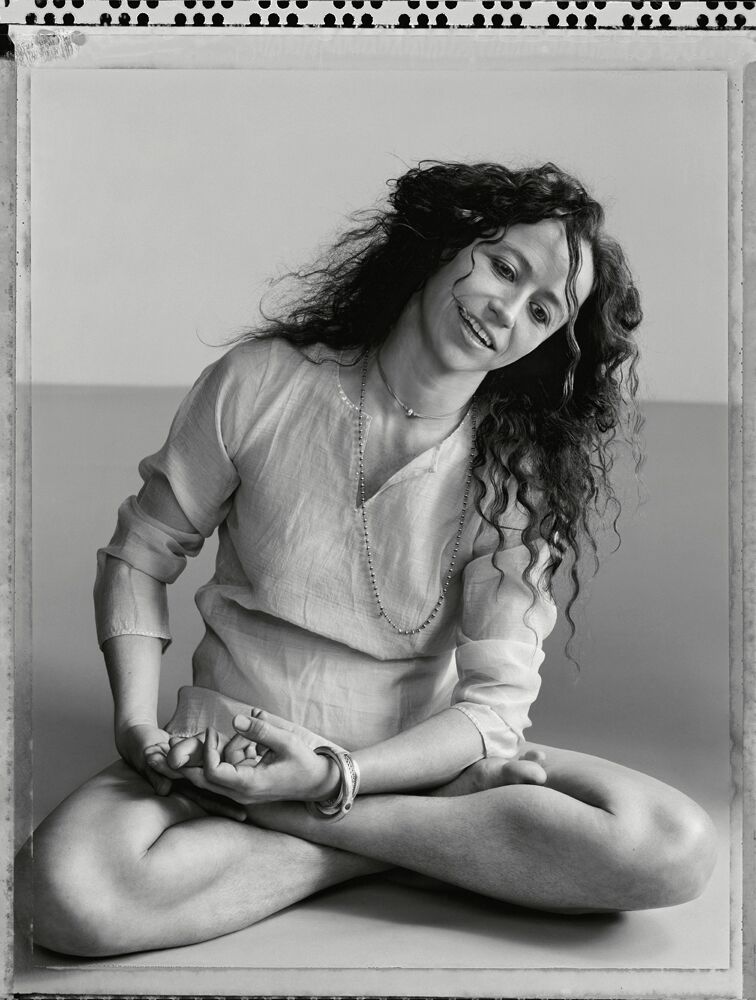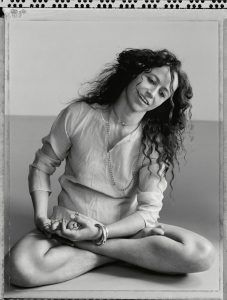 Commentary Teacher Bio: Estelle (Yogeswari) was born and raised in Switzerland, and also spent extensive and highly influential periods of her life around the Mediterranean, in the Middle East, Asia, and South America. Her interest in yoga, Hinduism, and Buddhism was sparked during her teens.
Before discovering Jivamukti in 1996, Estelle studied Integral, Kundalini, Sivananda, and Kripalu Yoga. A graduate of the 1999/2000 Jivamukti Teacher Training Program, she is now devoting her efforts to the practices of Ashtanga and Jivamukti Yoga.
The conscious development of her spiritual path began while studying the dances and rhythms of Haitian Voodoo and West African traditions. She then committed herself to a four-year apprenticeship under two sun-dancers in the Lakota tradition, which included participation in Native American ceremonies, as well as study of Hermetic philosophy.
A dancer and choreographer for over 20 years, Estelle was the co-founder and co-artistic director of K00 Dance from 1985-1992, and founded AZAHAR Danse Musique du Monde, a multimedia, international performing company, in 1995. She has worked with Mabou Mines' Lee Breuer and Bob Telson, Pat Hall, Elizabeth Streb, Ann Carlso, Anita Gonzalez, Cheryl Boyce-Taylor, and Fred Holland. She is a founding member of the Tanzfabrik Berlin, and performed in Meredith Monk's production of "Vessel" at the Schaubuehne, Berlin. Estelle's work has been presented in Europe, the Caribbean, and in the United States, including the Brooklyn Academy of Music, the Spoleto Festival, Yale Repertory, the Swiss Embassy, the Swiss Institute, and many downtown New York venues. She was the recipient of a New York Foundation for the Arts Choreographer's Fellowship, as well as grants and awards from the Swiss Center Foundation, the Canton and City of Berne, and NYSCA.
She holds an M.A. in dance, choreography and international feminist sports psychology from the Gallatin School at New York University, and a B.F.A. (magna cum laude) in dance from Temple University. In addition, she spent 10 years studying African and Caribbean dance and percussion, as well as Capoeira and hip-hop, and spent four years in Merce Cunningham's Professional Training Program. She has earned a Diploma of Spanish Cultural Studies from the Universidad Complutense, Madrid, and studied cultural anthropology, theater, and Islamic culture at the Freie Universitaet, Berlin.
While honoring her commitment to teach at Jivamukti, Estelle plans to resume her activities as a choreographer, using yoga and the performing arts as a foundation for international peace projects, with a special dedication to the voices of women and young girls. Estelle offers her efforts in yoga to the lotus feet of her teachers, Tripura Sundari and Deva Das. For their teachings, love, and generosity, she is eternally grateful.